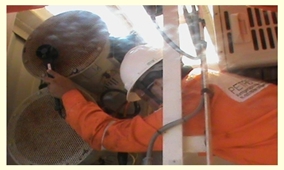 Petrofrio is a company founded in 2001.
Petrofrio has its strategic development plan focused on assisting corporate clients of the naval follow-up and petroleum industry, Petrofrio began its development of qualified labor creating the "Training Center Petrofrio", which is now a reference in "qualification of Technicians in Electrical and HVAC-R Commands for the Naval and Offshore Sector".
We are special in installation, maintenance of compressors "06E", "06D" and 5H 'Carrier and Sabroe, we have more than 20 years of HVAC-R OFFSHORE.
We perform TESTING with technicians and engineers specialized in electrical panels and HVAC-R. We have teams for simultaneous attendance in FPSO's and Probe units.
Petrofrio has Its base in the state of Rio de Janeiro, where more than 80% of Brazilian oil production occurred.
In 2007 the board strategically resolved the installation of the offices in Santos and not Espirito Santo, consolidating the strategic planning outlined by our board at the beginning of our Offshore Operations.
Petrofrio Refrigeration Naval & Offshore
We have a team of professionals with environments and experience in large vessels, platforms and tugboats, already acting in almost all the platforms of the Campos Basin and Santos facilitating the shipment for the same.
Our professionals are looking for a CBSP (salvage) course, Huet, NR10, NR13.
Petrofrio also has great specialists in PSVs 4500.
If you want quick services for projects and customized installations for small and large tugs, platforms, and offshore bases.
Call us!
Be our partner!